☒ Single ☒ Attached

☑

Dating my degree program
Blogs about: college, life, relationships, lists, life hacks, Pinoy and Filipino culturepoetry, family, Gospel reflections about life, simple statements, some personal notes
Follows: Real people-this-is-me-im-not-an-internet-person-blog kind of blogs,and funny word-y blogs
I write better in English because Filipino has soo much letters, but thats just me. "Itayo ang bandera ng Filipino"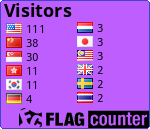 Kineticwordplay by Robelle Cordova is licensed under a Creative Commons Attribution-NonCommercial-NoDerivs 3.0 Philippines License.
thdailypoem
the alienhead
Go ahead. If I can help you with whatever it is. I''ll be happy to do so. :) (I can speak filipino too!)
Go Shoot.